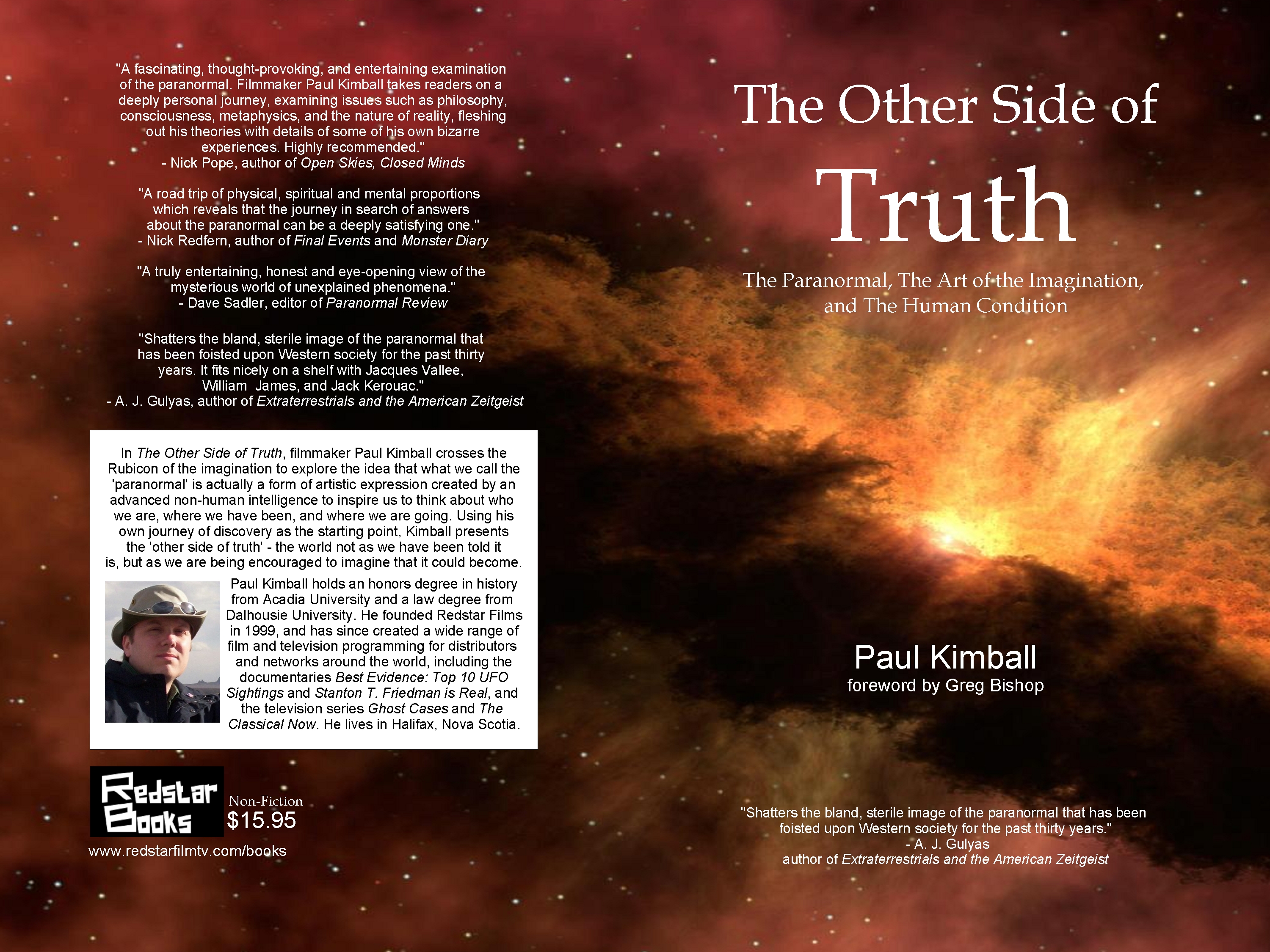 The Other Side of Truth: The Paranormal, The Art of the Imagination, and the Human Condition, is the first book to be published by Redstar Books. It was released in hard copy on 4 October, 2012. An E-book version will follow in early 2013.
Order your copy HERE (also available from Amazon, Amazon Canada, Amazon UK, and Barnes and Noble).
Now available in electronic format from a number of sites, including for the Kindle from Amazon, the Nook from Barnes & Noble, for the Kobo from Chapters in Canada, and the Sony E-Reader Store.

About
In The Other Side of Truth, filmmaker Paul Kimball crosses the Rubicon of the imagination to explore the idea that what we call the "paranormal" is actually a form of performance art created by an advanced non-human intelligence to make us think about who we are, where we have been, and where we are going. Using his own journey of discovery as the backdrop, Kimball puts forward the "other side of truth" – the world not as we have been told it is, but as we are being encouraged to imagine it could become.
Advance praise
"New thinking such as that displayed in this book is sorely needed in the paranormal field. I have seen Paul's opinions greeted with open hostility on my radio show and elsewhere. Incredibly insane stories such as the U.S. President using a time machine to get to Mars, or culinary recipes channeled from historical figures, don't garner half the vitriol that my good friend does. To me, that means he has something important to say that threatens the thoughtless. Good."
– Greg Bishop, host of Radio Misterioso, and author of Project Beta.
 "The Other Side of Truth is a road-trip of physical, spiritual, and mental proportions that sees Canadian filmmaker Paul Kimball hot on the trail of what is commonly, and simplistically, referred to as the paranormal. He demonstrates that there is nothing simple about matters such as UFOs, life after death, and synchronicity, and he reveals through his own fascinating experiences that the journey in search of the answers can be a deeply satisfying one."
– Nick Redfern, author of Monster Diary, Final Events, and The Real Men in Black.
"The Other Side of Truth is a fascinating and entertaining examination of the paranormal. UFOs, ghosts, time travel, synchronicities and reincarnation are just some of the subjects covered in this thought-provoking book. Paul Kimball takes readers on a deeply personal journey, examining issues such as philosophy, consciousness, metaphysics and the nature of reality, fleshing out his insightful theories with details of some of his own bizarre experiences. Highly recommended."
– Nick Pope, author of Open Skies, Closed Minds
"Paul Kimball's The Other Side of Truth shatters the bland, sterile image of 'the paranormal' foisted upon western society over the past thirty years. While this book won't give the reader any answers about ghosts, extraterrestrials, or the afterlife, it will inspire them to ask questions about the world and universe around them. Presenting one man's engrossing journey through the weirdness of our world and ourselves, Kimball's book fits nicely on a shelf with Jacques Vallee, William James, and Jack Kerouac."
– Aaron John Gulyas, historian and author of Extraterrestrials and the American Zeitgeist.
 "In The Other Side of Truth, filmmaker Paul Kimball takes his questing intelligence on a trip with an intriguing destination: a better understanding of what constitutes the  'paranormal', and a broader discussion of what constitutes 'truth'. Armed with a skeptical outlook but a remarkably open mind, Kimball takes the reader on a unique and entertaining journey through low and high culture – I love how he sweeps past the difference between the two – facts and feelings, and many remembrances of strange incidents in his own life, and arrives at a place that allows the 'paranormal' to breathe fresh air for the first time in many years."
– Ron Foley MacDonald, theater / film critic and senior programmer of the Atlantic Film Festival.
"In The Other Side of Truth Paul Kimball manages to be as deep-thinking as the late Mac Tonnies without being stuffy, and with his multiple personal anecdotes he's as engaging as Nick Redfern, without being banal. Ultimately, the thing the reader will appreciate the most is how Paul doesn't shy away from acknowledging the spiritual side of the paranormal phenomena, and the paranormal side of what we call the Spiritual – something rarely accepted by the sacred cows on BOTH ends of the discussion."
– Intrepid Magazine
"If you are looking for a vivid glimpse into some of the most frequently asked questions and thoughts about the paranormal and the unknown, then this book is for you. The Other Side of Truth is masterfully written by filmmaker Paul Kimball, who encourages the reader to open their mind not to answers, but to possibilities. It's not just a good read, it's a necessary one for anyone with an interest in the spiritual world, UFOs, death, reincarnation, and any other subject your subconscious may bring to your attention. Be prepared to set plenty of time aside, for when you pick up this book you will not want to put it down."
– Kathleen Mendelin Marchbank, author of Vamplitude.
"It's a cliché, but Paul Kimball's The Other Side Of Truth is a 'must read' for the choir, the seekers and the doubters. His honest curiosity and skepticism – demonstrated over the years on my e-mail list and radio program – combine, presenting his findings in an intriguing and easy read."
– Errol Bruce-Knapp, moderator of UFO UpDates, and host of Strange Days… Indeed and Mind Shift.
"After many years of research and adventures, and a whole lot of notes (or a fantastic memory), Paul Kimball has tried and tested all things covered under the 'paranormal' umbrella, from ghosts to UFOs to synchronicity. The end result is a truly entertaining, honest and eye-opening view of the mysterious world of unexplained phenomena."
– Dave Sadler, editor of The Paranormal Review, and author of Paranormal Reality: Ghosts, UFOs, and Pussy Cats.
"Out-of-the box thinking about the paranormal that is as refreshing as it is challenging –  if you come in with an open mind you just may learn a thing or two."
– Tony Morrill, blogger at Forteania.
"Whether it's UFOs, ghosts, or other mysteries, Paul Kimball offers a fair and critical examination of the paranormal and explores the many questions of life. After reading this book you will certainly be better prepared to answer the fundamental question that challenges humanity each and every day: What is Truth?"
– Rev. Kyle Wagner, B.A., MDiv., Anglican Church of Canada
"A glorious pastiche of things personal and things paranormal and transcendental. I can't do justice to the contents of this book; it is fecund with information and insight that readers will savor and have to think seriously about… That Paul is well-read is obvious. That he's a musician is overt too. His adoration of beautiful women is blatant. And his life has been and continues to be a journey of thought, fun, and a search for truth, which remains elusive and many-sided for him….and for us all."
– Rich Reynolds, The UFO Iconoclasts
"Unashamedly autobiographical and speculative, while solidly grounded in well-referenced objectivity, The Other Side of Truth utilizes the author's active interest in the paranormal to peer around the edge of perception in an attempt to glimpse some of the reality at the heart of the human condition. Kimball takes the supernatural in hand to break through the language barrier inherent in all such speculations and goes on to explore humankind's mysterious, puzzle-like relationship with scientific progress, art, music, film, works of fiction, philosophy, politics, theology, history, and all forms of the imagination. Part travelogue, the book consistently deepens the mystery with a whole range of references to the author's experience of the paranormal via personal anecdote and investigation, always bringing the reader back to the essential question begging to be asked in a society overridden with banality and spectacle – 'who are we, and even more importantly, who do we want to become?' There are photographs throughout, and the bibliography and footnotes are great for further reading. Overall, it's an intriguing, all-encompassing, concise, funny and sometimes moving page-turner, and, if all that doesn't take your fancy, it's still a fantastic book about UFOs and ghosts and stuff."
– Andy Stephenson, The Objective Speculator
– "This book will be required reading for any serious student of UFOlogy, and Fortean phenomena in general. And that's because Paul chose to go beyond the tired re-telling of accounts and sightings, and opted to make sense of the BIG questions. And that's what the field desperately needs right now. Intellectuals and philosophers who can try to make sense of what this phenomena implies to us as human beings, in the large scheme of things."
– Miguel Romero, Red Pill Junkie