Episode 2.2
Rev. Kyle Wagner – "The Inner Light"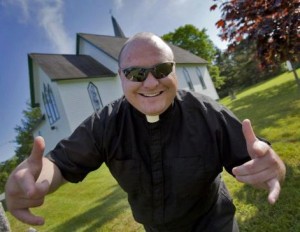 Rev. Kyle Wagner, the Anglican rector for Seaforth Parish in Nova Scotia, joins host Paul Kimball for a wide-ranging conversation about faith, spirituality, the nature of God and the Kingdom of Heaven, whether or not there is evil in the world, how and why the Church still engages in exorcisms, what happens to us after death… and some paranormal topics as well, including ghosts, the prospect of extraterrestrial life – whether here on Earth as visitors or "out there" among the stars – and how it might affect our view of ourselves and our relationship with God, and his own personal spiritual awakening.
Kyle has a Bachelor's Degree in history and political science from Mount Allison University, and a Masters of Divinity from the Atlantic School of Theology. His occasional blog can be found here.
This episode was recorded on 4 September, 2013.
Opening Theme: "The Other Side of Truth" – mixed by Paul Kimball, and featuring "Iron Man" by Soundjay.
Closing music: "Perfect Tourists" – written by Dan Jardine and performed by Danger Dean.
Download this episode directly here.
Subscribe to The Other Side of Truth.
If you enjoy The Other Side of Truth, you can help support the creation of new broadcasts by donating!