Episode 1.8
Errol Bruce-Knapp – "Strange Days… Indeed"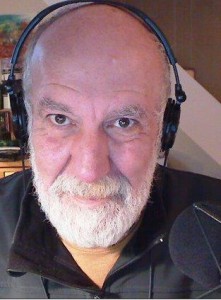 I first heard of Errol Bruce-Knapp in 1999 when I was doing the research for my first documentary, Stanton T. Friedman is Real. I joined an e-mail list called UFO Updates, because that was where all of the important UFO researchers "hung out", and reading through the archives and participating in the discussions was like a grad-level course in the UFO phenomenon. It was on UFO Updates that I "met" three people who would later become three of my best friends – the late Mac Tonnies, Greg Bishop, and Nick Redfern – as well as many others who would appear in future films, or with whom I struck up a friendship. After Stanton T. Friedman is Real was released, I made the first of several appearances on Errol's UFO-themed radio show out of Toronto, Strange Days… Indeed, and I eventually got the chance to meet him in person when I was in Toronto in 2005.
As I got to know Errol, I realized that there was much more to the man and his story than just his interest in the UFO phenomenon. If anyone that I've ever met has exemplified the motto I use when trying to describe how I live my life, it's Errol – the journey for him has always been the destination. Errol has always been moving forward, riding the wave of the cultural and intellectual zeitgeist. From his birth in Egypt to the sounds of the guns being fired at the Battle of El Alamein in 1942 to his work in Canadian television and radio from the late 1960s onwards, Errol's story has been inextricably linked with the story of his generation, and the second half of the 20th century.
In this interview conducted on Monday, 11 June 2012, Errol stops looking forward for two hours, and joins me in a look back at his amazing life and experiences. We talk about his childhood, including his memories of the war, his stint in the British Army (and his ingenious method of escape), his time as a pirate radio disc jockey in the United Kingdom during the Swingin' Sixties, his move to Canada, his work with John Lennon, his career in radio and television in the Great White North, including the inside story on the Canadian cult-classic TV program The Hilarious House of Frightenstein… and of course his interest in UFOs and the paranormal, and his own experiences with "the unknown". We also talk about the future, and how technological advancements may represent a fundamental change for humanity. As I said, Errol is a man who is always looking forward… and his journey is far from over!
Subscribe to The Other Side of Truth.
If you enjoy The Other Side of Truth, you can help support the creation of new broadcasts by donating!